Oberlin College & Conservatory
Class of 1970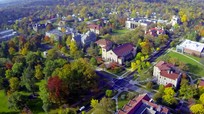 ANNOUNCEMENTS
Seeking Talent for our 50th Reunion Talent Show!
Steve Hesla and Doug Rose are organizing a Talent-Sharing/Variety show for our Class of '70 reunion for Saturday evening, May 23. They invite each class member to participate who is interested in the fun of sharing one of their artistic talents with their classmates. For example, you could share a musical presentation, singing, poetry or short story you've written, a reading from a play you've been in (or would just like to read), a slide show of art or sculptures you've done. Almost anything that you can present in about 6-8 minutes (or less). Hidden talents are welcome. This event has become a highlight of recent 50th reunions, so don't be shy. It's low pressure and very entertaining. Just contact Steve [steven.hesla@umontana.edu, (406) 241-6006] or Doug [dfrose4@gmail.com (513) 532-3789 (cell, text)] as soon as you can!
Participate in the Little Booklet of Advice for Graduating Seniors!
Dear Obies,
We are reaching out to the members of the 50th reunion class, in the hope that you will be willing to participate in a new-to-Oberlin activity … and one that we are hoping becomes an Oberlin tradition!
This year, we are asking members of the Class of 1970 to look back on the past and answer this question: "How has Oberlin affected your life since graduation?" We think that your ruminations on the past might help members of the Class of 2020 face the uncertainties of their future.
Please click here to fill out a short, online form with your take on how Oberlin shaped the way you dealt with the twists and turns of life over the last 50 years – or didn't as the case may be. Please keep it short, no more than 400 words, so that we can publish all the entries that we receive!
(You can also visit our Class of 1970 Reunion Website and click on the link to the survey from the home page.)
The "advice to graduates" exercise has become a beloved tradition at many schools, but – being Obies – we have added a twist. We have asked the Class of 2020 to send us some advice back, for you. We are hoping that this communication might spark some interesting intergenerational conversations during Commencement Reunion weekend.
Once the results of this survey are gathered, the Alumni Office will print a booklet incorporating both sets of advice, and will print it for distribution this coming May.
We look forward to gathering your wisdom for the Class of 2020 and encourage you to participate in this survey!
Warmest regards,
Sue Angell '99
Associate Director, Reunion and Alumni Engagement
On behalf of the 50th Reunion Committee
The Class of 1970 50th Reunion will take place May 22-25, 2020!
Housing Information for Reunion Weekend
Hello, everyone! Just a quick update on reunion housing for those who have questions!
The Class of 1970 will be housed in Kahn Hall -- which is Oberlin's newest dorm with amenities like AC.
Overflow space for those who register later will be in Barnard House, which features a nice lounge space.
Reunion Registration material will be sent out in March 2020. Please register early to ensure your spot in a dorm, if that's where you'd like to stay!
For those who prefer to stay on campus, residence hall housing is available Friday, Saturday, and Sunday nights. Residence hall charges are $40 per bed per night if registration is received before May 1. After May 1, the cost is $55 per bed per night. Although there are many single rooms in some residence halls, others have mostly doubles and it may be necessary to assign roommates.
Due to the short turnaround time between the undergraduates leaving and weekend guests arriving, we are not able to accommodate guests on Thursday. All dorms must be vacated by 1:00 p.m. on Monday, May 25, 2020.
Additional area accommodations are listed on Oberlin's website: https://www.oberlin.edu/about-oberlin/visiting-oberlin/area-accommodations.